NOTICE !
Kantipur Covid-19 Prevention Fund
We, Kantipur Media Group, would like to notify you that the government has put a halt to Kantipur Covid-19 Prevention Fund, a campaign to raise against the coronavirus pandemic. Our decision to this effect follows a government decision to channel all funds through the state's own mechanism.

In the past also we have come to assist whenever the country was in crisis. We are disappointed that we are unable to help this time around when the state is in difficulty.

All the money of the contributors-institutions and individuals who has contributed to the Fund will be returned.Also, please be notified that the refund might take a few days as it has to go through bank procedures. In case of queries or urgency please email us at corporate@kmg.com.np

We hope all the generous institutions and individuals will contribute to the government fund to help the state in a time of crisis.
Awareness against
COVID-19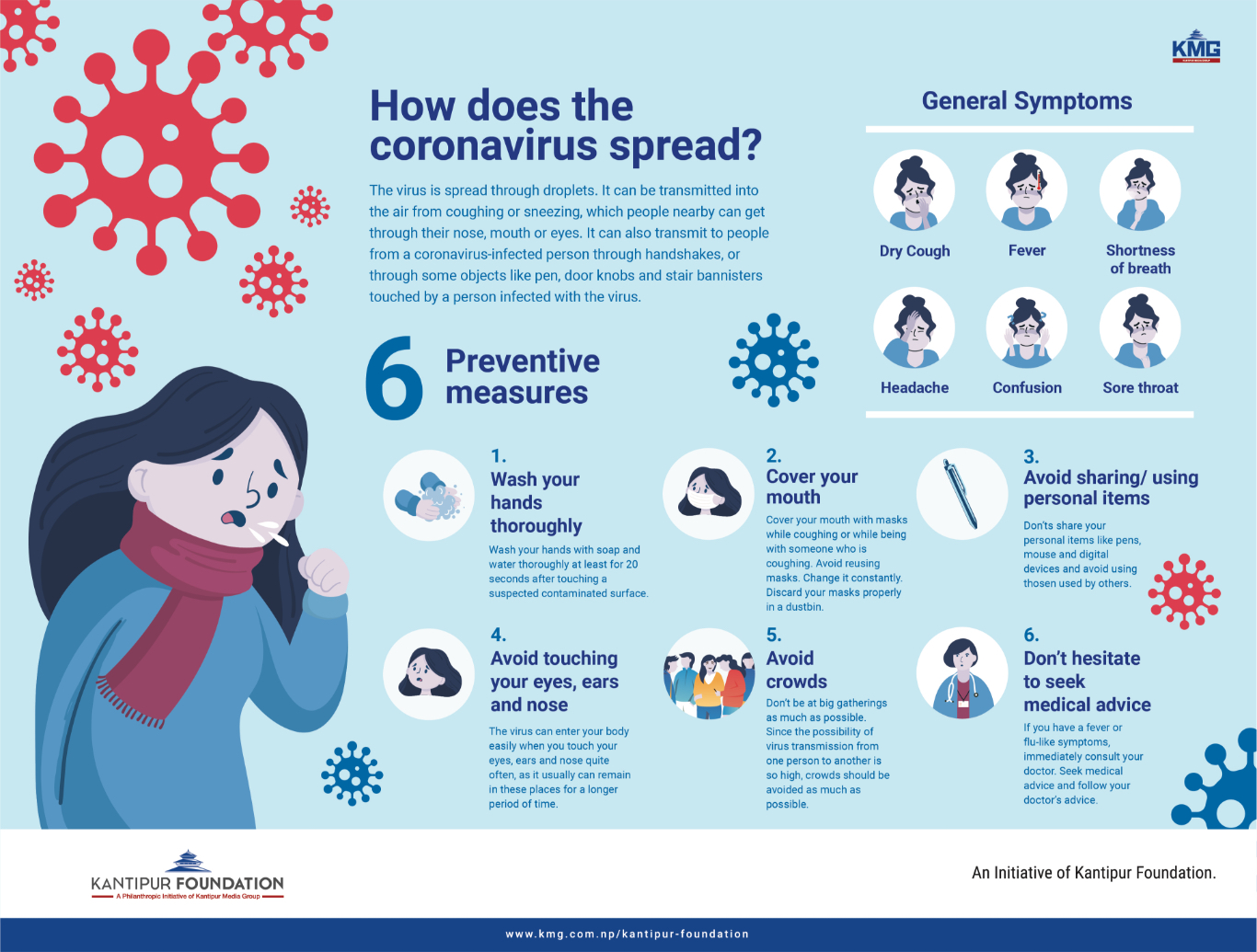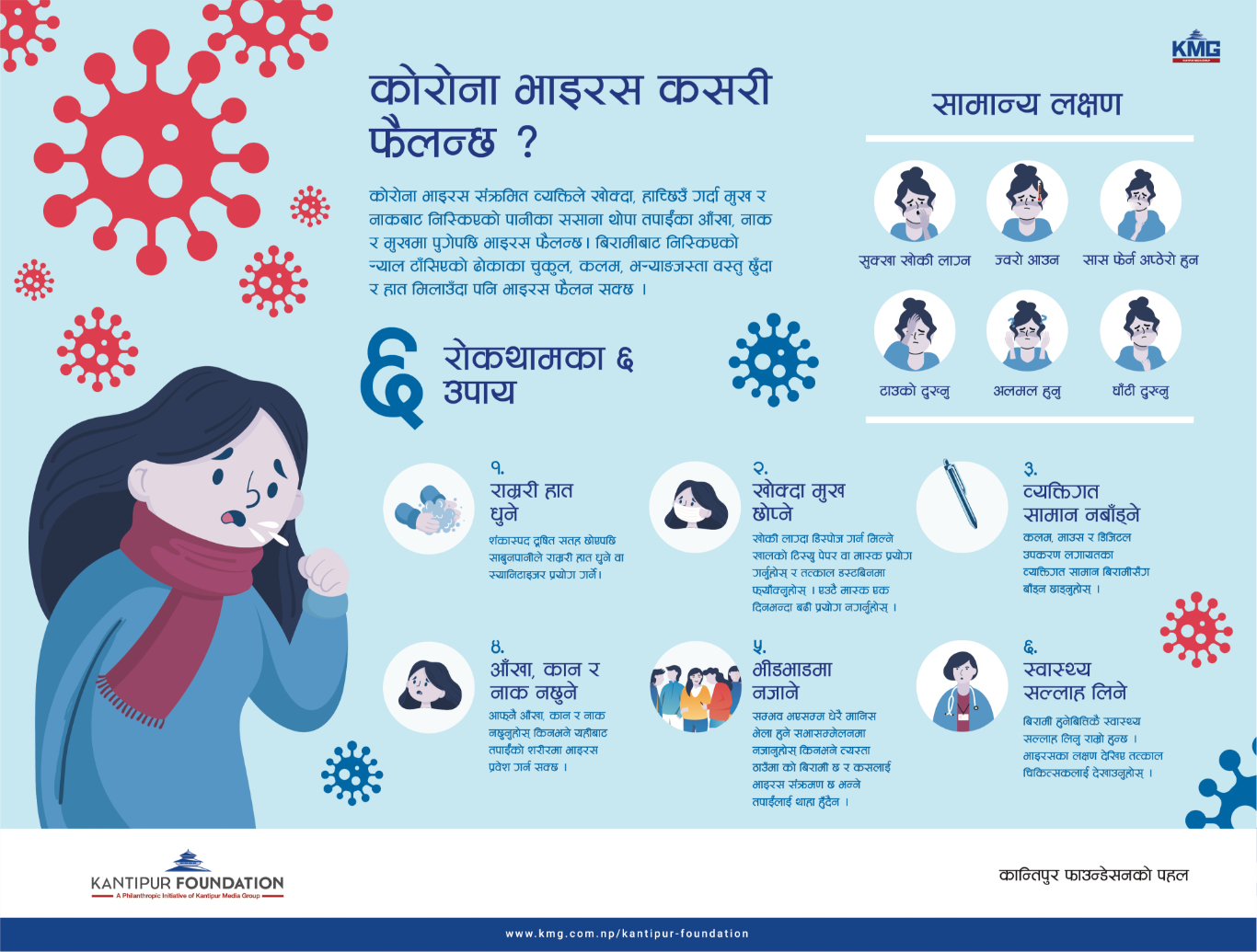 ---
The Kantipur Foundation is a non-profit philanthropic organisation that seeks to give back to society and make a difference in people's lives. The foundation primarily focuses on contributing to the health and education sectors, but in times of national crises, it will focus on providing help where it's needed most.
For example, in the aftermath of the devastating earthquakes of 2015, the foundation played a vital role in providing relief to affected people across Nepal. And on August 14, 2017, the foundation established a fund— Kantipur Badhi-Pahiro Rahat Kosh—to offer emergency relief to communities affected by floods and landslides across the country.
In 2014, the foundation established the Kantipur Icon Award, with the objective of awarding an inspirational, unsung hero or institution who deserves recognition for their tireless work and positive contribution to Nepal.
Starting 2018, the award comprises four categories—Arts and Literature, Business and Economy, Science and Technology, and Society and Politics, and each award winner receives a gold medallion worth Rs5 lakhs.
Schools Establishment in Rural areas
1.Shree Shardha Nimna Medium School, Ghumaune taar Naamsaling - 5, Illam 14/ 06/2069, Nrs. 12,80,000
Kantipur Badhi-Pahiro Rahat Kosh
Kantipur Foundation,had established a fund, "Kantipur Badhi-Pahiro Rahat Kosh", to offer emergency relief to the communities affected by floods and landslides across the country.
The foundation had initiated the fund with a seed amount of Rs 1.1 million. Nepal Investment Bank, Siddhartha Bank, NIC Asia Bank and Nepal Medicity Hospital also contributed Rs 1.1 million each to the fund.
The total fund collected and transferred to Prime Minister disaster relief fund was Rs. 1,14,41,032 (11.4 million)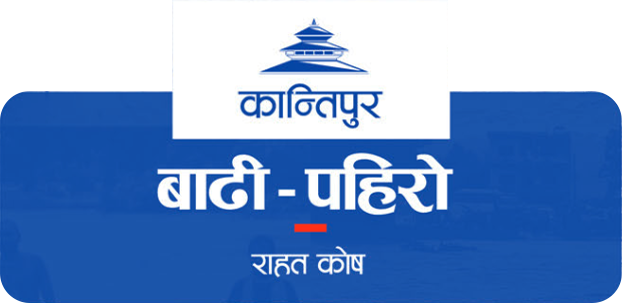 ---